Gift Wrapped Folkmanis Puppets
Make sending your gifts easy by using our professional gift wrapping service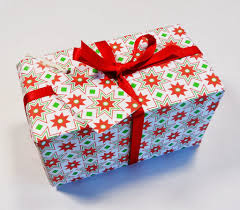 Gift Wrapping for Special Occasions...
Would you like us to wrap your gifts for you? No matter what the occasion is, we'll gladly and professionally wrap almost every stuffed animal purchased at FolkmanisPuppetStore - giving them that extra-special touch. With just a click of a mouse your gifts will be wrapped for you!

How does this convenient gift-wrap option work?
Whether you prefer to give the gift yourself or have us ship it directly to your special person, we'll wrap the item in the paper of your choice and add some special touches like colorful bows or curly ribbons. We'll even attach a special gift card for the lucky recipient (if requested) with your own personalized message. We've taken all of the pain out of gift giving- Sending the perfect gift to that special person has never been so easy!

Choose the item(s) you wish to have gift wrapped when you add them to your shopping cart.
To take advantage of our gift-wrapping service, all you need to do is select the Gift Wrap and paper color options in your shopping cart. It's that simple. You'll be able to select the color and style for the special occasion or holiday. Unfortunately, some items are not eligible for wrapping. If you don't see an option for gift-wrapping or paper color in your shopping cart, it means the item you've selected isn't eligible.

Who are these gifts for?
During checkout you can select whether you wish the wrapped gifts to be shipped to you or directly to your special person. All you need to do is change the "Shipping Address" during the final step of the checkout process. If you would like to include a special note with your gift, simply type the note into the "Special Instructions" box on the "Confirm Your Order" screen and we'll make sure your note is included with your gift.

What if I'm ordering gifts for multiple people?
FolkmanisPuppetStore happily wraps multiple gifts to be shipped to you or your lucky recipients. To help figure out who-gets-what when the gifts arrive at their destination, we'll include a small white sticker on the bottom of each wrapped gift that corresponds to the Item Number listed on the packing slip enclosed with your shipment. This simple process makes it easy to recognize what's in each beautifully wrapped box.

If you're sending gifts directly to someone special, we'll send a gift receipt with the shipment. This will NOT include pricing but will instead list the product names and item numbers for easy identification in the event of an exchange or return.

If you decide not to have your item wrapped, but your order is a Gift Order, we'll make sure to include a packing list without prices. All you have to do is click on "Yes, this is a gift order" on the final checkout screen.

Please note: The prices for gift-wrapping may vary from item to item due to the materials used to wrap the item. Some animals require boxing and additional packaging before they can be safely shipped.


---
Christmas, Chanukah, Birthday, Graduation, Valentine's Day... whatever the occasion.
FolkmanisPuppetStore will professionally and beautifully wrap your gift,
helping to make that special day even more special!
---