100% Satisfaction Guarantee and Return Policy
100% Satisfaction Guarantee and Return Policy
FolkmanisPuppetStore wants nothing more than for our customers to be completely satisfied with their purchases as well as our service. Every product we sell comes with a 100% Guarantee. If for any reason you are not 100% satisfied, you are welcome to send back the products(s) you're unhappy with for a full refund or store credit (in the form of a FolkmanisPuppetStore.com Gift Certificate) for the full price paid for the item(s) (excluding shipping) within 30 days of receipt of your purchase. You may also choose to exchange it for any other item on our web site that you prefer. Returned items must be in "as-new" condition to qualify for refunds. If merchandise is opened and/or unable to be resold, a Store Credit will be issued.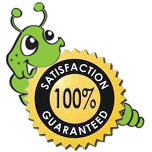 Shipping Charges on Returns
Shipping charges are not refundable unless the item(s) are being returned because they are defective. Shipping charges incurred for the return of items are the responsibility of the customer unless the item(s) are being returned because they are defective. The customer is responsible for any additional shipping charges that result from an exchange. If your original order qualified for free shipping, you will be responsible for the shipping charges incurred by FolkmanisPuppetStore for the original shipment.
Limited Quantity Policy
To help keep all of our customers happy, We reserve the right to limit quantities of any product within our store, particularly on hard-to-find items.
Customer Service
Any questions may be e-mailed to:
sales@folkmanispuppetstore.com
or you may call us at (516) 665-2370. Customer Service hours are Monday through Friday 8:30am to 6:00pm EST.
Click Here
for our complete
"Return Policy & Instructions"
.